This internship is a great opportunity to build foundational experience in running international programs. The internship is up to 35 hours a week with a three-month commitment, with the possibility of extending an additional three months. Internship can be fully remote or hybrid.
Core tasks could include coordinating travel logistics, maintaining databases, conducting due diligence, tracking finances, monitoring and evaluating projects, communicating impact through the Web and social media, researching media innovation for project development and other administrative tasks.
About International Court of Justice (ICJ)
The International Court of Justice (ICJ; French: Cour internationale de justice; CIJ), sometimes known as the World Court,is one of the six principal organs of the United Nations (UN).It settles disputes between states in accordance with international law and gives advisory opinions on international legal issues. The ICJ is the only international court that adjudicates general disputes between countries, with its rulings and opinions serving as primary sources of international law. The ICJ is the successor of th... read more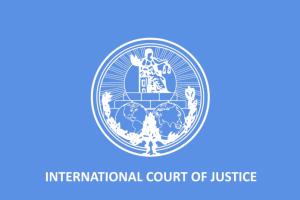 Subscribe for scholarship alert.
Be among the first to know whenever new International Court of Justice (ICJ) scholarship is going on.
ICFJ Program Internship
Aim and Benefits of ICFJ Program Internship
Assist ICFJ staff with arranging travel and other logistics for program participants.
Maintain Salesforce database with contact information and project data.
Process expense reports and update financial tracking systems.
Assist in managing social media (Facebook, Instagram, web analytics, etc.).
Help recruit program participants and assist in the implementation of workshops/trainings.
Assist in conducting program evaluations and writing reports.
Provide administrative support as needed.
Requirements for ICFJ Program Internship Qualification
Intern must be enrolled in a degree-granting program during the internship or a recent graduate;
Strong communication and interpersonal skills;
Ability to take initiative and be a self-starter;
Strong attention to detail and highly developed organizational skills;
Ability to manage multiple tasks;
Experience with logistics, event planning, research, databases, finances, administrative tasks and spreadsheets is preferred;
Proficiency in a second language is helpful;
Applicant must be U.S.-based and authorized to work in the U.S.
Application Deadline
Not Specified
How to Apply
Interested and qualified? Go to
International Court of Justice (ICJ) on workforcenow.adp.com
to apply
Applicants should submit a resume and cover letter. Only complete applications, including a cover letter, will be considered.
In compliance with federal law, all persons hired will be required to verify identity and eligibility to work in the United States and to complete the required employment eligibility verification form upon hire.
For more details,visit ICFJ website