Beginning in mid-2023, CFJ and our partner organizations will offer one-year, fully funded fellowships to an inaugural class of ten early-career women lawyers in sub-Saharan Africa.
For too long, the law has served as a tool of oppression against women and girls, who continue to face inequality throughout the world. When so-called justice systems permit child marriage but punish pregnant students, girls cannot access the education they deserve. When governments criminalize certain behaviors on the basis of "morality" but fail to investigate pervasive sexual violence, they signal that women should be devalued and externally defined. And when the legal profession hinders female lawyers from reaching positions of power, we perpetuate and exacerbate these cycles of discrimination.
The Clooney Foundation for Justice'sWaging Justice for Womeninitiative is working to change this, by transforming the law from a tool of oppression into a driver of change. Working hand in hand with grassroots organizations, we use legal empowerment, strategic litigation, and public advocacy to challenge injustice against women and girls. We work closely with these expert partner organizations to provide legal and advocacy support, amplifying their work and causes.
We have seen first-hand how lawyers can reform discriminatory laws and obtain justice for survivors of abuse. We are proud to launchCFJ's Waging Justice for Women Fellowship, a new effort to empower the next generation of feminist lawyers to advance rights for women and girls in their communities.
The aim of CFJ's Waging Justice for Women Fellowship Program is to equip African gender justice champions with the tools they need to challenge inequality through the courts. EachWaging Justice for Women Fellowwill spend the year embedded with one of ten leading human rights and legal advocacy organizations in sub-Saharan Africa. These organizations partner with WJW on key issues such as removing legal barriers to girls' education, combatting child marriage, promoting accountability for gender-based violence, and combatting economic discrimination and criminalization based on gender stereotypes. Having a fully funded lawyer for a year will increase the ability of these organizations to deliver access to justice for women and girls.
About Clooney Foundation for Justice
We founded the Clooney Foundation for Justice because we believe in creating a world where human rights are protected and no one is above the law. We believe that justice, like war, must be waged; it doesn't just happen on its own. So we gather evidence of mass human rights abuses, provide free legal support to victims and work to ensure that perpetrators are held to account. The fight for justice has some difficult foes and that we are staring down some alarming global trends. Since it was founded CFJ has grown every year, and we now operate in more than 40 countries. We are ac...... read more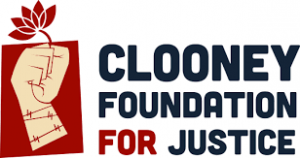 Subscribe for scholarship alert.
Be among the first to know whenever new Clooney Foundation for Justice scholarship is going on.
Waging Justice for Women Fellowships
Aim and Benefits of Waging Justice for Women Fellowships
CFJ's Waging Justice for Women Fellowship Program will be administered in partnership with the Legal Empowerment Fund at the Fund for Global Human Rights. It will offer fellows an annual salary and an opportunity to work with leading human rights organizations on gender justice. Fellows will support at least one strategic litigation case designed to advance women and girls' rights in national, regional or international courts or UN mechanisms. Fellows should expect to be based in the home country of their host organization and have the right to work in that country.
CFJ's Waging Justice for Women Fellowship Program will also provide Fellows with mentorship, training, and access to leading lawyers, judges, activists, and academics from across the Continent and around the world. We will look to expand the number and geographical scope of the fellowship in future years.
Fellows will also take part in a mentorship and training program, which will include a monthly online curriculum and at least one in-person convening. These programs will expose fellows to a diverse array of women leaders as well as strong peer support networks, which will provide added support and inspiration as they pursue public interest work to advance the rights of women, girls, and marginalized communities.
CFJ'sWaging Justice for Women Fellowship Programwill also organize events with leading women lawyers and judges focused on promoting women in leadership, celebrating the contributions of Africa's leading women in law, and facilitating discussions about how to accelerate progress on gender justice and equality on the Continent. We will also host events and trainings with peer institutions, including the Obama Foundation's Girls Opportunity Alliance, to connect our respective fellows and enable emerging African leaders from different fields to come together to devise innovative solutions to the issues facing women and girls.
Requirements for Waging Justice for Women Fellowships Qualification
A qualifying law degree
Practice Certificate:

Admitted to practice as a lawyer in at least one of the countries of the host organizations

Work experience:

At least two years of post-qualification experience in the legal field. (As this fellowship is for early-career women lawyers, we will be less likely to consider women with more than five years of legal experience post-qualification).
Experience in women's rights and working in human rights organizations preferred

Citizenship or work authorizationin either Malawi, Tanzania, Kenya, South Africa, The Gambia, Sierra Leone, Liberia, or Ghana.
Skills/competencies:

Experience working with survivors and/or impacted communities
Experience integrating gender and child-sensitive perspectives into substantive work
Interest in gender equality and women's rights
Commitment to the mission and goals of the Clooney Foundation for Justice and relevant host organizations.
A demonstrated ability to conduct complex legal analysis and fact-finding.
Excellent research, writing and verbal communication skills.
Self-starter with excellent interpersonal and teamwork skills.
Demonstrated commitment to social justice and human rights and creativity in crafting strategies to advance justice in our priority areas.
Willingness to travel.
Fluency in English required; proficiency in other working languages relevant to the countries of host organizations preferred.
Application Deadline
April 8, 2023
How to Apply
Interested and qualified? Go to
Clooney Foundation for Justice on cfj.org
to apply
For more details, visit Clooney Foundation for Justice website.